Odyssey is one of Canada's largest and most diverse metaphysical stores. We offer specialized books, gifts, classes and services designed to increase awareness and enhance personal discovery, development and growth.
Our knowledgeable, professional in-store experts can provide guidance, advice and personal recommendations.
Odyssey offers a forum for discovery and interaction that encourages the exploration and exchange of knowledge and ideas, all within a warm, open, and inviting environment.
SPRING / SUMMER 2015 CALENDAR OF EVENTS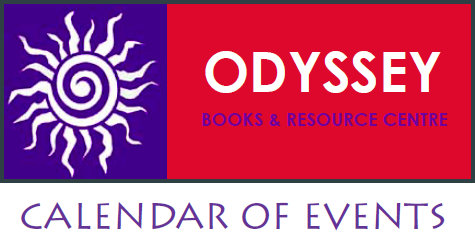 You can register and pay for Courses and Sessions online, by phone or in person. Since the dates & times for Readings & Healings are constantly changing (as appointments are made) many customers prefer to contact the store directly to find out what is available. Once a date and time is booked we will ask you to prepay to guarantee your spot. This also entitles you to receive the lower price (listed in brackets). Appointments that have not been pre-paid may be cancelled (unless prior arrangements have been arranged).
CUSTOMER MEMBER SPECIAL FOR APRIL - 10% OFF DIVINATION DECKS
This month we offer our Members 10% off our wide selection of divination decks. Divination is the practice of seeking knowledge with the use of oracle or tarot decks. Divination readings access our subconscious to find answers that aren't readily available to our five senses. New and favorite decks arrive every week at Odyssey so come in and browse our unique selection.
If you are not a Member and would like to take advantage of our Monthly specials, $5.00 bonus vouchers and free gifts, sign up today. An annual membership is only $10.
FREE UPCOMING EVENT - Friday, May 1

TALK & AUTHOR VISIT      Paul Selig
Friday, May 1       7 pm - 8 pm 
Internationally acclaimed empath and channel Paul Selig is the author of I Am the Word, The Book of Love and Creation, and The Book of Knowing and Worth. He has been channelling for nearly 20 years, maintains a private practice as a psychic in New York City and serves on the faculty of NYU. He was recently featured on the documentary series "The uneXplained" on the A&E/BIO channel.
During his presentation at Odyssey, Paul will discuss conscious transformation and lead an interactive Q&A. This will be followed by a book signing. Please pre-register.
 Award-winning author and channel Paul Selig will lead a deeply transformational, channeled workshop where you will work directly with his guides to achieve new levels of healing, self-awareness and life purpose.
Paul's guides have been bringing through new teachings on mastery in preparation for their next book. You will be introduced to this information as well as learn techniques for developing and sustaining higher levels of consciousness. These new skills will help you move through limiting emotional patterns and beliefs that may be keeping you from manifesting your own higher nature.
In this workshop, you will:
* Receive individual instruction and teaching from Paul's Guides 
* Become attuned to higher frequencies in a way that you can trust & feel 
* Learn how to send and receive healing energies 
* Develop your own abilities as an empath 
* Free yourself from patterns of limitation and fear 
* Gain tools to transform your life and awaken to your own divine nature
To register please go to http://paulselig.com/events/toronto/ 
For questions contact Paula Connor at 705.644.4298 or This email address is being protected from spambots. You need JavaScript enabled to view it.
MUSIC FOR A CAUSE
We continue to add new titles to our retired selection of CD demos and discontinued music inventory. For every $5.00 donated (100% of which will be donated to the Charities we support) you will be able to choose a free CD. Check the basket each time you are in to see if there is something for you.
LOVELY HAND-STRUNG GEMSTONE CHIP NECKLACES
Have you ever stopped to think about who made the jewellery you wear? Archana, who does Chakra Crystal Readings through Odyssey, was chosen by the Dalai Lama to live at Dharamsala in India for seven years. One of the many things she did while there was to teach some of the local women how to turn the small pieces of semiprecious material that remained from making rings, pendants and earrings into chip necklaces.
This labourious process involves drilling a hole in each tiny stone chip and then stringing hundreds of them together to form a long strand. The finished pieces are then smudged and blessed to clear & enhance their energy. The women cram themselves into a small room everyday to work on this tedious task. They are grateful for the opportunity of earning a living in this way so they can provide for their basic needs as well as those of their families (A few of these hard working girls have elected to put their earnings towards a university education and more promising future). The project also protects young, unmarried women so they can remain in their villages and not be taken away to work on the streets.
Odyssey recently purchased a variety of these necklaces to sell in the store. We are planning to donate a percentage of the proceeds back so that these entrepreneurial women continue to be supported. We have a gorgeous variety of stones available including Quartz, Rose Quartz, Rhodolite, Garnet, Carnelian, Mahogany Obsidian, Golden Rutile, Citrine, Tiger Eye, Chrysoprase, Tree Agate, Labradorite, Prehnite, Malachite, Real Turquoise (not dyed howlite), Lapis, Sodalite, Fluorite, Amethyst, Kyanite, Tourmalinated Quartz and Snowflake Obsidian. Many are affordably priced at only $8 so you can pick up a few for yourself and as gifts.
ARE YOU AN ODYSSEY FACEBOOK FAN?
On occasion the name of one of our Odyssey Books Facebook fans is randomly chosen to receive a special treat (and absolutely no purchase is necessary). If you are selected, your name will be posted on the site and you can pick up your gift at the store. Click here to visit our Facebook page.
HEALING BLESSINGS
Let us join together collectively and focus our healing energies towards the areas of our wonderous planet that have been affected by disaster or trauma.
Please send your love along with white, gold and platinum light, and the healing energies with which you work to support those in need. If you use the violet flame to help transcend non-beneficial energies or are skilled at grid-work to help repair disconnected energy lines, your assistance is also required.
Let us also remember those in need of medical attention and healing, from the little children to the aged, from the citizens to the volunteer workers, from the pets and wild animals to the devastated landscape and sacred architecture of the area.
Let us pray that the medical experts and volunteer helpers are able to gain access to all areas in need; that supplies of water, food and clothing can reach all individuals; that the monies raised worldwide will be used efficiently & effectively to support healthy, livable communities; and that the people affected are blessed with hope for the future.
And may we pray for the thousands of dear souls who suffered as well as to those who have passed to another realm.
Let us pray that the countries of the world unify together to assist with whatever means they have in aiding areas of the planet that have been devastated by natural disasters & mis-guided human actions. And that in this unification, all citizens will realize that what is most important is to move toward a brighter future with more love, cooperation, acceptance & respect between nations and peoples, including the unseen and those from multi-dimensional existences.
ODYSSEY WINS THE COVR AWARD FOR BEST WEBSITE
I have often attended an trade show in Denver, CO where I've had the pleasure of meeting many of the wonderful authors whose books we carry (including Ted Andrews, Silver RavenWolf, Richard Webster, Louise Hay, Doreen Virtue, Wayne Dyer, Gregg Braden, and more). There is also an industry Association present at this show called COVR - Coalition of Visionary Resources - and each year they present Awards for the industries best books, music and sidelines.
In 2010 Odyssey was presented with the award for BEST WEBSITE! This was the first time a retail store had ever been recognized with this prestigious honour (in the past it had always been given to vendors or large publishers like Llewellyn). In addition it was also the first time a Canadian business was chosen.
The Award would not have been possible without the skill, talent and dedication of Leila Vey of New World Media Artists. She took on the arduous task of totally redesigning our website and adding new content, product categories, photos, and a shopping cart. Lawren Purvis and Shannon Bowdring maintain the site with upgrades, product additions and updates.
And since our Calendar of Events is such an integral part of our site (and our store) we also want to acknowledge and extend our gratitude to Linda Lee Purvis for her creativity and hard work in providing Odyssey with a fantastic tabloid-size, photo-rich, full-colour format.
The Award itself is a large marble obelisk which is on display at the store for you to see.
Thanks to each and every one of you for being an integral part of the Odyssey community and for allowing me to share this wonderful news with you.
Debbie
EAST OF THE CITY MAGAZINE ARTICLE ON ODYSSEY
The following is a wonderful article that was written by East of the City Magazine columnist, Linda Lee Purvis.
An inviting, celestial sun shines above the entrance to Odyssey Books & Resource Centre in the Courtyard in Pickering Village. It radiates with affirming warmth, welcoming patrons in search of illumination for their path to self-discovery. Inside its doors is a galaxy of specialty books and tools to guide spiritual travelers along their journey.
FREE INCENSE WITH YOUR PURCHASE
Click here to download a coupon you can use for free incense with your next purchase.
SUBSCRIBE TO OUR NEWSLETTER